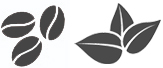 This tea blend, utilizes a variety of ingredients that are known to help the body relax and catch some zzzz's. Blended with valerian root, honeybush tea, chamomile, spearmint herbal, passion flowers, lemon balm, lavender, cherries and blue cornflowers.
If your are pregnant, nursing or on medication, we recommend that you speak with a doctor, prior to use.
We now package our loose leaf tea in a bag, making shipping easy!  Each bag yields (15) 16 ounce mugs of hot tea. We recommend 1.5 TBS of product for a 16 ounce hot drink. Utilize 2 TBS, for a 24-32 ounce iced drink. Sweeten as desired.
Brought to you by Sweetea's and Adagio.

Free Wi-Fi.
Kids Trunk.
Family Games.
GATHER WITH US!