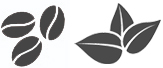 Bigfoot: Fact or Fiction?
We may or may not have seen Bigfoot at Sweetea's. The rumor is he likes root beer latte, made with herbs, roots and bark.
This water-resistant, custom-made sticker is a Sweetea's original. Adhere to a water bottle, laptop, vehicle or anywhere you choose!

Free Wi-Fi.
Kids Trunk.
Family Games.
GATHER WITH US!