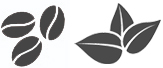 Black Raspberry Latte Non-Dairy
Our Black Raspberry Latte was a customer favorite in the summer of 2021, so we're keeping it on the menu and offering this non-dairy version as well. Made with an herbal compote blend, this latte is caffeine free and popular with both kids and adults. Do you enjoy summer berries and cream?! Check out this dairy free, caffeine free treat!
Kit includes (6) prep cups. Each prep cup makes a hot 16 ounce latte or 24 ounce iced serving. Delicious either way! (At Sweetea's, we think iced is bliss!)

Free Wi-Fi.
Kids Trunk.
Family Games.
GATHER WITH US!