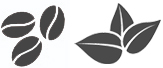 Pomegranate Blackberry Latte
Do you love the taste of berries year round? This tea blend is sure to please your palate!
Ingredients include: Black tea, white tea, rose hips, blackberry leaves, safflower, flavoring, sugar and a vanilla dairy powder blend.
Kit includes (6) prep cups. Each prep cup makes a hot 16 ounce latte or 24 ounce iced serving.
*Contains dairy and caffeine.

Free Wi-Fi.
Kids Trunk.
Family Games.
GATHER WITH US!