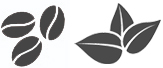 This original holiday recipe is created and blended in-house, with: Black tea, candy cane pieces and flavor, herbal peppermint, sugar and a creamy dairy blend. Order some for yourself, as well as family and friends for the Holidays! Tastes like Christmas in a cup!
Kit includes (6) prep cups. Each prep cup makes a hot 16 ounce latte or 24 ounce iced serving.
*Contains dairy and caffeine.

Free Wi-Fi.
Kids Trunk.
Family Games.
GATHER WITH US!