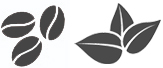 Our apple pie latte, taste like the real thing! Reminiscent of freshly picked apples and warm spice, Ingredients: Black tea, ground cinnamon, apple and cinnamon pieces, cake batter powder and sugar.
Kit includes (6) prep cups. Each prep cup makes a hot 16 ounce latte or 24 ounce iced serving.
*Contains dairy and caffeine.

Free Wi-Fi.
Kids Trunk.
Family Games.
GATHER WITH US!