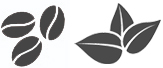 Our apple latte is created, using a rooibos from South Africa. Made in small, custom batches, this latte kit reminds us of Fall evenings and camp fires. Naturally caffeine free, this latte is good any evening of the year!
Apple of Sweetea's Eye (custom blended tea), cake batter powder & sugar. Contains dairy.
Kit includes (5) prep cups. Each prep cup makes a hot 16 ounce latte or 24 ounce iced serving.

Free Wi-Fi.
Kids Trunk.
Family Games.
GATHER WITH US!