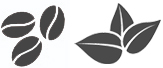 Award Winning Latte: 2021!
Created with fruit & almond undertones, this rooibos latte is comforting, delicious & caffeine free!
Ingredients include: Rooibos (from South Africa), cornflower, almonds, natural flavoring, sugar and a vanilla dairy powder blend.
*Please note that at the Chocolate Walk, we served this drink with a little bit of French chocolate/cherry syrup. We are unable to ship this syrup, due to the possibility of leaks. However, if you want to add chocolate to this cherry/fruit flavored latte, a little Hershey's goes a long way! Mmm.
Kit includes (6) prep cups. Each prep cup makes a hot 16 ounce latte or 24 ounce iced serving.
*Contains dairy.

Free Wi-Fi.
Kids Trunk.
Family Games.
GATHER WITH US!