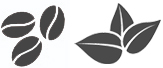 Chocolate Mint Latte Non-Dairy
If you love lattes, but want to skip the dairy, this may be your new favorite treat?! Made with black tea and herbal peppermint, this latte is rich in flavor and blends chocolate, vanilla and mint notes nicely.
Ingredients: Black tea leaves, herbal peppermint, chocolate and vanilla flavors, sugar and a non-dairy cream blend.
Kit includes (6) prep cups. Each prep cup makes a hot 16 ounce latte or 24 ounce iced serving. Delicious either way!
*Contains caffeine. Dairy free.

Free Wi-Fi.
Kids Trunk.
Family Games.
GATHER WITH US!