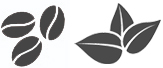 Cinnamon Roll Latte- Less Sweet
Cinnamon Roll Latte, less sweet?! Yes!
And it's amazing…. Enjoy one of Sweetea's most popular tea lattes, now with less sugar. We custom blend this latte with a strong cinnamon black tea, reminiscent of red hots. If you like flavorful black teas, with a kick of spice, this may become your new favorite?!
Ingredients: Black tea leaves, cloves, cinnamon, orange peel, flavors and a cake batter dairy powder blend.
Kit includes (6) prep cups. Each prep cup makes a hot 16 ounce latte or 24 ounce iced serving. Delicious either way!
*Contains dairy and caffeine.

Free Wi-Fi.
Kids Trunk.
Family Games.
GATHER WITH US!