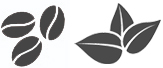 Cinnamon Roll Latte Non-Dairy
Cinnamon Roll Latte, dairy free?! Yes!
Due to popular demand, we are now creating some of our tea lattes in a non-dairy version. Creamy, sweet and bold in flavor, nothing appears to be missing from this red hot, cinnamon treat!
Ingredients: Black tea leaves, cloves, cinnamon, orange peel, flavors, sugar and a non-dairy cream blend.
Kit includes (6) prep cups. Each prep cup makes a hot 16 ounce latte or 24 ounce iced serving. Delicious either way!
*Contains caffeine.

Free Wi-Fi.
Kids Trunk.
Family Games.
GATHER WITH US!