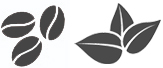 Limited edition! Create family sized pitchers of our custom blended, Coconut Sweet Tea.  This white/black tea combination tastes like toasted coconut over ice. Refreshing and sweet!
This kit creates (6) 100 oz. pitchers. Simply add water and sugar. Directions included.
Ingredients: Black tea, white tea, almonds, coconut, natural flavoring & more.
We recommend that you purchase one of our large tea balls, to create this sweet tea at home. We have these available for purchase on the site. Or, if you have a large iced tea pitcher with a tea infuser, this may work as well.
Brought to you by Sweetea's & Nelson's Teas. Enjoy!

Free Wi-Fi.
Kids Trunk.
Family Games.
GATHER WITH US!