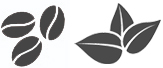 We often hear customers ask for retail coffee products and now they are available! In Spring, 2022, our Sweetea's team began roasting coffee beans, right here in Brown County. This "Brew County" coffee line has been enjoying success in-house and now you can enjoy these flavors in the comfort of your own home.
Our house blend consists of a single-origin Guatemalan bean, which is roasted in different ways and then blended together. We currently use this house blend, for our Cold Brew Lattes. A customer favorite, these beans have a nice well-rounded flavor and pair well with syrups and milks, if desired.
We ship this product in a 16-ounce burlap bag and the coffee beans are whole.
*A Sweetea's original.

Free Wi-Fi.
Kids Trunk.
Family Games.
GATHER WITH US!