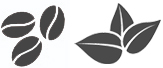 At Sweetea's, our green tea blends are refreshing & popular! Packed with ingredients, we recommend straining this tea over ice, pool side! Blended with green tea leaves, apple pieces, coconut, orange, marigold flowers, mango pieces and natural fruit flavors.
We now package our loose leaf tea in a bag, making shipping easy!  Each bag yields (15) 16 ounce mugs of hot tea. We recommend 1.5 TBS of product for a 16 ounce hot drink. Utilize 2 TBS, for a 24-32 ounce iced drink. Sweeten as desired.
Brought to you by Sweetea's and Adagio.

Free Wi-Fi.
Kids Trunk.
Family Games.
GATHER WITH US!