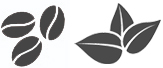 Maple and Brown Sugar Latte
We have combined a maple oolong tea, with brown sugar and vanilla, to create this soothing latte. Enjoy hot or iced, but we recommend it steeped hot with whip on top!
Ingredients: Oolong tea, cinnamon, apple pieces, cardamom, maple flavor, cloves, safflower, natural creme flavor, vanilla powder and brown sugar. *Contains dairy.
Kit includes (6) prep cups. Each prep cup makes a hot 16 ounce latte or 24 ounce iced serving.

Free Wi-Fi.
Kids Trunk.
Family Games.
GATHER WITH US!