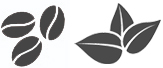 Matcha Green Tea Latte Kit
Our Matcha Latte is created with a finely ground powder, from the Camellia sinensis plant. Matcha is high in antioxidants and caffeine, compared to other green teas. This latte is less sweet than some other Sweetea's lattes & has a nice, creamy profile. Enjoy hot or iced!
Ingredients: Matcha (ceremonial grade/pulverized green tea leaf) & a vanilla dairy powder blend.
Kit includes (6) prep cups. Each prep cup makes a hot 16 ounce latte or 24 ounce iced serving.

Free Wi-Fi.
Kids Trunk.
Family Games.
GATHER WITH US!