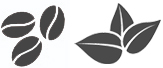 The rumor is that this tea is being discontinued by our custom blender… Nooo! Until then, we will continue to steep this green tea blend, into our lemonades and enjoy every last drop. This tropical lemonade can be found on our bubble drink menu in-house and is definitely a family favorite. We'll keep it around as long as we can! 

Ingredients: Maui pineapple green tea blend, lemonade mix & sugar.
Kit includes (5) prep cups. Each prep cup makes a small pitcher of iced lemonade (35-45 ounces). Directions included.

Free Wi-Fi.
Kids Trunk.
Family Games.
GATHER WITH US!