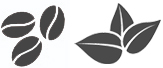 This fruity tea blend is sure to please your palate! One of our newest creations, this grapefruit sweet tea combines a Sri Lankan black tea, natural grapefruit flavor, oranges, marigold flowers and sugar. Refreshingly sweet, with a unique taste!
Each kit creates (6) 24-32 ounce iced drinks. Simply add water. Directions included.
Brought to you by Sweetea's and Adagio. Enjoy!

Free Wi-Fi.
Kids Trunk.
Family Games.
GATHER WITH US!