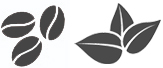 Reminiscent of Southern Sweet Tea & huge family style porches, this black tea blend is sure to please! Perfect for BBQ's and family gatherings.
Each family kit creates (6) 32 ounce iced drinks! Simply add water and sugar. Directions included.
Ingredients: a blend of Ceylon and Assam teas, as well as sugar.
Brought to you by Sweetea's and Harney & Sons. Enjoy!

Free Wi-Fi.
Kids Trunk.
Family Games.
GATHER WITH US!