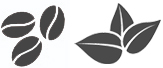 Our Maui Pineapple Lemonade Kit is one of our best sellers at Sweetea's! So naturally, we wanted to sell these family sized kits as well. We hope you love this green tea steeped lemonade, as much as we do! Rumor has it, this tea is being discontinued. We will sell it until the last drop!
Each family kit creates (6) 100 oz. pitchers!
We recommend that you purchase one of our large tea balls, to create this sweet tea at home. We have these available for purchase on the site. Or, if you have a large iced tea pitcher with a tea infuser, this may work as well.
Directions included. Enjoy!

Free Wi-Fi.
Kids Trunk.
Family Games.
GATHER WITH US!