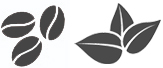 As a child, one of my favorite things to consume, was my Nana's red hot jello. I'll never forget it. Years later, I own a tea shop and sell a red hot iced tea. Coincidence?!
This rich, strong black tea blend combines spicy with sweet, for a refreshing treat. Maybe it will be one of your family's favorites?
Each family kit creates (6) 100 oz. pitchers! Just add water & sugar. Directions included.
Ingredients: Black teas, 3 kinds of cinnamon, orange peel and sweet cloves.
We recommend that you purchase one of our large tea balls, to create this sweet tea at home. We have these available for purchase on the site. Or, if you have a large iced tea pitcher with a tea infuser, this may work as well.
Brought to you by Sweetea's and Harney & Sons. Enjoy!

Free Wi-Fi.
Kids Trunk.
Family Games.
GATHER WITH US!