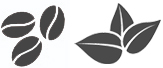 As a child, one of my favorite things to consume, was my Nana's red hot jello. I'll never forget it. Years later, I own a tea shop and sell a red hot iced tea. Coincidence?!
This rich, strong black tea blend combines spicy with sweet, for a refreshing treat. Maybe it will be one of your family's favorites!
Each kit creates (6) 32 ounce iced drinks! Just add water & sugar. Directions included.
Ingredients: Black teas, 3 kinds of cinnamon, orange peel, sweet cloves and sugar.
Brought to you by Sweetea's and Harney & Sons. Enjoy!

Free Wi-Fi.
Kids Trunk.
Family Games.
GATHER WITH US!