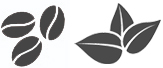 This sweet tea is blended with an Oolong tea from Taiwan, along with vanilla bean flavor, for a rich, aromatic, treat. One of the Owner's favorites, this sweet tea has been one of our best sellers lately. Contains a moderate level of caffeine.
Each kit creates (6) 24 ounce iced drinks! Just add water. Directions included.
Brought to you by Sweetea's and Adagio. Enjoy!

Free Wi-Fi.
Kids Trunk.
Family Games.
GATHER WITH US!