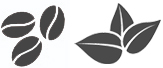 Tastes just like Root Beer! This herbal latte kit is packed full of herbs, root & bark. This creamy treat is caffeine free and is found on our Bubble Tea menu in-house.
Ingredients: sassafras bark, sarsaparilla root, birch bark, burdock root, dandelion root, licorice root, fennel seed, anise star pods, ginger root, cinnamon, flavoring, vanilla powder and sugar. *Contains dairy.
Kit includes (5) prep cups. Each prep cup makes a hot 16 ounce latte or 24 ounce iced serving.

Free Wi-Fi.
Kids Trunk.
Family Games.
GATHER WITH US!