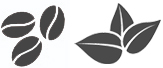 Tastes just like root beer! This herbal latte is caffeine free and enjoyed by kids and adults alike. 
Contains: 
Root Beer Herbal- Nelson's
Vanilla Smoothie Powder Big Train
Sugar
*Contains dairy. 
Kit includes (5) prep cups. Each prep cup makes a hot 16 ounce latte or a small iced pitcher (35-45 ounces)

Free Wi-Fi.
Kids Trunk.
Family Games.
GATHER WITH US!