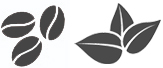 Chai latte and 4 oz almond syrup
Our Thai Chai Latte is in high demand & a customer favorite! Our chai incorporates black tea leaves, as well as creamy coconut and floral lemongrass.  Create a Sweetea's original at home, by combining a thai chai prep cup, with a small amount of almond syrup for a hot or iced treat! This product listing includes a set of (6) Thai Chai prep cups, as well as a small bottle (4oz) of almond syrup (which is created and produced in the French Alps)!
Kit includes (6) prep cups & a bottle of almond 1883 syrup.
Each prep cup makes a hot 16 ounce latte or 24 ounce iced serving.
*Contains dairy.

Free Wi-Fi.
Kids Trunk.
Family Games.
GATHER WITH US!