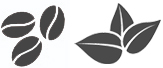 Vanilla Chai Latte Non-Dairy
Our original Thai Chai Latte is back and now available in both dairy and non-dairy versions. A best seller four years in a row, this unique chai blends lemongrass and coconut, along with black tea, for a delicious treat.
Ingredients: Black tea, cinnamon, ginger, coconut, cardamom, natural coconut flavor, lemongrass, sugar and a non-dairy cream blend.
Kit includes (6) prep cups/bags. Each serving  makes a hot 16 ounce latte or 24 ounce iced latte.
*Contains caffeine. Dairy free.

Free Wi-Fi.
Kids Trunk.
Family Games.
GATHER WITH US!