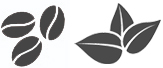 Do you like refreshing green tea blends? At Sweetea's, adults and kids alike seem to love this tropical green sweet tea. Made with green tea leaves, pineapple & natural flavors, this citrus blend is sure to be a hit. Refreshingly good!
This tea kit creates (6) 32 ounce iced drinks! Simple to make. Directions included.
Ingredients: Green tea, pineapple flavor & natural ingredients, sugar.
Brought to you by Sweetea's and Harney & Sons. Enjoy!

Free Wi-Fi.
Kids Trunk.
Family Games.
GATHER WITH US!