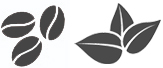 Do you like refreshing green tea blends? At Sweetea's, adults and kids alike seem to love this tropical green sweet tea. Made with green tea leaves, pineapple & natural flavors, this citrus blend is sure to be a hit. Refreshingly good!
This custom blended tea kit creates (6) 100 oz. pitchers! Simply add sugar and water. Directions included.
Ingredients: Green tea, pineapple flavor & natural ingredients.
We recommend that you purchase one of our large tea balls, to create this sweet tea at home. We have these available for purchase on the site. Or, if you have a large iced tea pitcher with a tea infuser, this may work as well.
Brought to you by Sweetea's and Harney & Sons. Enjoy!

Free Wi-Fi.
Kids Trunk.
Family Games.
GATHER WITH US!