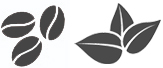 This fruity blend makes for a delicious sweet treat. Enjoy the fresh fruit taste of Summer, with this black tea latte. Creamy and good! Customers tend to prefer this drink iced. 

Ingredients: black tea, blackberry leaves, natural fruit flavoring, vanilla powder and sugar. *Contains dairy.
Kit includes (5) prep cups. Each prep cup makes a hot 16 ounce latte or 24 ounce iced serving.

Free Wi-Fi.
Kids Trunk.
Family Games.
GATHER WITH US!