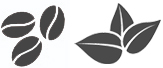 Packed full of berries, these lattes are flavorful, aromatic and rich in color!
Ingredients include: Rose hips, hibiscus, apple pieces, blue corn flowers, natural creme flavor, raspberries, natural blueberry, strawberry and blackberry flavors, raspberry leaves, strawberries, blueberries, a sweet vanilla dairy blend and sugar.
*Contains dairy.  *Caffeine free.
Kit includes (6) prep cups. Each prep cup makes a hot 16 ounce latte or 24 ounce iced serving.

Free Wi-Fi.
Kids Trunk.
Family Games.
GATHER WITH US!