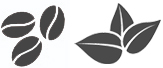 This sweet tea combines herbs and berries for a delicious, refreshing, healthy drink. Flavorful and naturally sweet!
Each kit creates (6) 32 ounce iced drinks. Simply add water and strain. Directions included.
Ingredients: Spearmint, elderberry, hibiscus, elderflower, peppermint, echinacea, dandelion root, nettle, dried blueberries, natural flavoring and sugar. Naturally Caffeine Free
Brought to you by Sweetea's and Nelson's Tea. Enjoy!

Free Wi-Fi.
Kids Trunk.
Family Games.
GATHER WITH US!