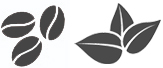 Butterscotch and cocoa aromas come together, for a delicious treat! Blended With Black Tea, Apple Pieces, Cocoa Nibs, Rose Hips, Butterscotch Flavor, Marigold Flowers, a Vanilla Dairy Powder Blend and Sugar.
Making its' debut in early '22, customers love it!
Kit includes (6) prep cups. Each prep cup makes a hot 16 ounce latte or 24 ounce iced drink.
*Contains dairy and caffeine.

Free Wi-Fi.
Kids Trunk.
Family Games.
GATHER WITH US!