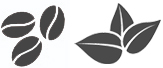 At Sweetea's, whenever we put this drink on sample, we sell a ton of it! Reminiscent of warm, spiced flavors in a cup, this latte is a retail favorite.
Ingredients include: Black tea, orange peel, cinnamon, cloves, fruit flavor, sugar and a creamy dairy powder blend.
*Contains caffeine and dairy.
Kit includes (6) prep cups. Each prep cup makes a hot 16 ounce latte or 24 ounce iced serving.

Free Wi-Fi.
Kids Trunk.
Family Games.
GATHER WITH US!