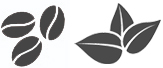 Orange Spice Latte (Fall Spice)
This is one of our newest Lattes and a staff favorite. Reminiscent of warm, winter flavors in a cup!
Black tea, orange peel, cinnamon, cloves, fruit flavor, cake batter powder and sugar.
*Contains dairy.
Kit includes (6) prep cups. Each prep cup makes a hot 16 ounce latte or 24 ounce iced serving.

Free Wi-Fi.
Kids Trunk.
Family Games.
GATHER WITH US!