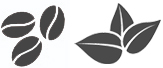 Tastes like a cinnamon roll in a cup… an in-house favorite! Due to popularity, we offer this latte year round. Strong in flavor and rich in taste. Can be enjoyed hot or iced.
Ingredients: Black tea, orange peel, cloves, 3 types of cinnamon, natural & artificial flavors, cake batter powder and sugar. Contains dairy.
Kit includes (6) prep cups. Each prep cup makes a hot 16 ounce latte or 24 ounce iced serving.

Free Wi-Fi.
Kids Trunk.
Family Games.
GATHER WITH US!