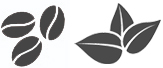 Hibiscus Herbal Caffeine Free
Hibiscus flowers, which are beautiful in color, can be steeped alone and enjoyed as an herbal blend. Commonly, hibiscus leaves are also mixed with other herbs, flowers and leaves, to create delicious tea blends. Caffeine free.
We now package our loose leaf tea in a bag, making shipping easy. Each bag yields (15) 16oz mugs of hot tea. We recommend 1 TBS of product for a 16oz hot drink. Double the amount of tea, for a 32oz iced drink. Sweeten as desired.
Brought to you by Sweetea's and Nelson's.

Free Wi-Fi.
Kids Trunk.
Family Games.
GATHER WITH US!