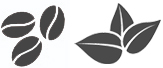 Lavender Lemon Herbal Tea
At Sweetea's, this refreshing lavender/lemon blend is a customer favorite! Floral and citrusy, this caffeine-free herbal blend, is a calming way to relax throughout the day. Healthy and sooo good!
We now package our loose leaf tea in a bag, making shipping easy!  Each bag yields (15) 16 ounce mugs of hot tea. We recommend 1.5 TBS of product for a 16 ounce hot drink. Utilize 2 TBS, for a 24-32 ounce iced drink. Sweeten as desired.
Brought to you by Sweetea's and Adagio.

Free Wi-Fi.
Kids Trunk.
Family Games.
GATHER WITH US!