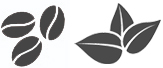 Brighten your day with this sweet, fun latte! Who says that tea can't taste cute?! Our lemon meringue latte is made with green tea leaves, apple pieces, orange, marigold flowers and natural vanilla, creme and lemon flavors, sugara and a vanilla dairy blend.
Kit includes (6) individual servings. Each prep bag makes a 16 ounce hot latte or a 24 ounce iced latte.
*Contains dairy and caffeine.

Free Wi-Fi.
Kids Trunk.
Family Games.
GATHER WITH US!