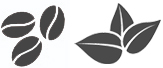 Owner's Favorite! This authentic tea latte combines a custom blended Earl Grey black tea, with lavender and vanilla. Warm up with a hot London Fog, or strain over ice for a cool treat. Can't go wrong with this tea latte!

Ingredients: Black tea, cornflower petals, bergamot flavor, blue lavandin, vanilla powder & sugar. *Contains dairy and caffeine.
Kit includes (6)  prep cups. Each prep cup makes a hot 16 ounce latte or 24 ounce iced serving. 

Free Wi-Fi.
Kids Trunk.
Family Games.
GATHER WITH US!