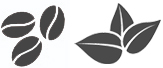 This blend is one of the Owner's favorites. Created with sencha green tea, ginger root, spearmint leaf and natural flavors, this Mango Mint Peach tea blend is deliciously refreshing. Perfect for a hot summer day (or wannabe summer days)!
We now package our loose leaf tea in a bag, making shipping easy!  Each bag yields (15) 16 ounce mugs of hot tea. We recommend 1.5 TBS of product for a 16 ounce hot drink. Utilize 2 TBS, for a 24-32 ounce iced drink. Sweeten as desired.
Brought to you by Sweetea's and Nelson's.

Free Wi-Fi.
Kids Trunk.
Family Games.
GATHER WITH US!