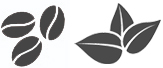 Matcha is steeped in Japanese tradition, literally! Our matcha latte is created using a ceremonial green tea powder vs. a culinary grade one. Flavorful, earthy and sweet, this matcha latte is delicious hot or iced. Custom blended at Sweetea's, our matcha latte is made with green tea leaves, pineapple and natural flavors (mild in taste) and a vanilla dairy blend. Enjoy!
Kit includes (6) individual servings. Each prep bag makes a 16 ounce hot latte or a 24 ounce iced latte.
*Contains dairy and caffeine.

Free Wi-Fi.
Kids Trunk.
Family Games.
GATHER WITH US!