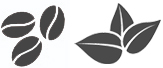 A previous BEST SELLER, our peaches and cream latte is back! This custom made tea latte tastes just like real peaches, covered in cream. Blended with green rooibos, orange peel, marigold petals, natural flavors, sugar and a vanilla dairy blend, this latte can be enjoyed hot or iced. At Sweetea's, we recommend iced!
Kit includes (6) prep cups. Each prep cup makes a hot 16 ounce latte or 24 ounce iced drink.
*Contains dairy. Caffeine free.

Free Wi-Fi.
Kids Trunk.
Family Games.
GATHER WITH US!