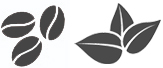 This latte, in combination with our 1883 Peppermint Syrup, won "Best Tasting Chocolate" in our Annual Brown County Chocolate Walk, 2019. Delicious (with or without the syrup), this chocolate mint treat is sure to please. Sweetea's original!
Ingredients: Black tea, chocolate flavor, vanilla flavor, peppermint leaves, natural flavors, vanilla powder and sugar. *Contains dairy.
Kit includes (6) prep cups. Each prep cup makes a hot 16 ounce latte or 24 ounce iced serving.

Free Wi-Fi.
Kids Trunk.
Family Games.
GATHER WITH US!