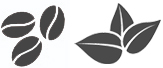 An Original Recipe and loved by many! Created with great Fall flavors including pumpkin, turmeric and cinnamon. Not just for Thanksgiving!
Ingredients: Honeybush pumpkin chai from Adagio,  Turmeric Spice from Nelson's, Hot Cinnamon Spice Tea from Harney and Sons, cake batter powder and sugar. *Contains dairy.
Kit includes (5) prep cups. Each prep cup makes a hot 16 ounce latte or 24 ounce iced serving. Enjoy!

Free Wi-Fi.
Kids Trunk.
Family Games.
GATHER WITH US!