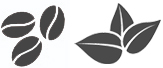 If you love spicy chai blends, we encourage you to try Sweetea's spiced chai!  Made with black tea leaves and a variety of spices, this warm, flavorful and aromatic tea blend is our newest chai latte. Ingredients include: Black tea, ginger, cinnamon chips, peppercorns, cloves, allspice, cardamom, orange peel, natural flavors, sugar and a vanilla dairy powder.
Kit includes (6) individual servings. Each prep bag makes a 16 ounce hot latte or a 24 ounce iced latte.
*Contains dairy and caffeine.

Free Wi-Fi.
Kids Trunk.
Family Games.
GATHER WITH US!