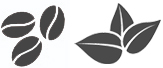 Our summer rose latte is deliciously floral and flavorful!  Enjoy the taste of summer year round with this ceylon/rose blend. Making its' debut in the Spring of 2022, this latte is already becoming a customer favorite. Enjoy hot or iced!
Ingredients: black tea, rose petals, rose flavor, sugar and a vanilla dairy powder blend.
Kit includes (6) prep cups. Each prep cup makes a hot 16 ounce latte or 24 ounce iced drink.
*Contains dairy and caffeine.

Free Wi-Fi.
Kids Trunk.
Family Games.
GATHER WITH US!