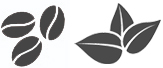 In this soothing & delicious latte, we blend  black tea with flavorful almonds, natural vanilla flavoring, sweet vanilla dairy powder and granulated sugar. Simply add water and strain out the tea leaves, for a flavorful drink at home.
Kit includes (6) individual servings. Each prep bag makes a 16 ounce hot latte or a 24 ounce iced latte.
*Contains dairy and caffeine.

Free Wi-Fi.
Kids Trunk.
Family Games.
GATHER WITH US!